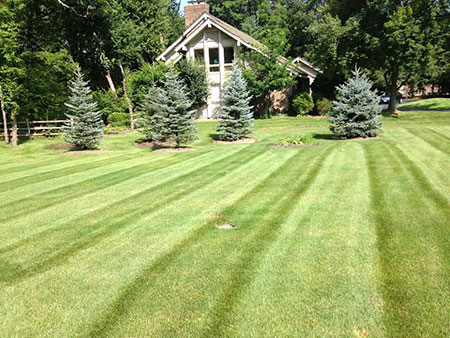 Our Signature Lawn Care Program at A & J Landscape Center is our traditional granular 5 application program that includes:
5 slow-release granular fertilizer applications.
Two back-to-back pre-emergent herbicide applications in spring to improve
weed control.
Post-emergent weed control during every application, if needed.
Summer time white grub control included.
Our Ecowise Lawn Care Program is our most environmentally friendly program
option and includes the following benefits:
100% organic fertilizers and pesticides that are both people and pet safe.
Use of EPA-certified minimum and reduced risk herbicides.
Liquid foliar feeding, instead of granular, to reduce product/nutrient runoff.
Pre-emergent weed control in early spring.
Post-emergent weed control during every application.
Organic grub control included.
Our tree and shrub fertilization program consists of multiple applications per year. Based on your particular landscape we will put together a customized program that best fits your needs.
Fertilization is a very important component of plant health care as it is necessary to supplement naturally occurring, essential mineral elements in the soil that maintain an optimum supply for plant growth. For these reasons, periodic applications of fertilizer to ornamental trees and shrubs are needed to replenish essential mineral elements and to promote healthy growth. Contact us today if you're in Sylvania, Silica, Lucas County, Toledo, and Holland, OH for more information.