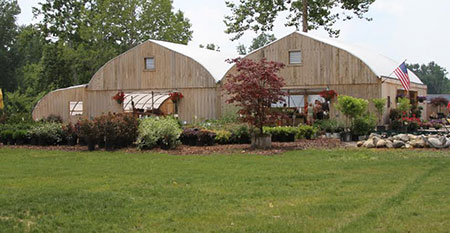 Once your ideal landscape in in place, it takes a fair amount of care and maintenance to keep it looking beautiful! Take a look at some of the services we offer on an ongoing basis to make sure your property retains its charm and looks great even years after you update it:
Lawn treatment: Our Signature Program uses both granular and liquid slow release fertilizer sources, proven pre-emergent and post-emergent herbicides, and Merit for the control of white grubs. Our EcoWise Program is a more environmentally friendly option that uses the latest technology in slow-release liquid fertilizer. Better absorption means more fertilizer stays in your lawn and out of local waterways! Prices start at $38 and $48 per 12,000sq/ft.
Lawn mowing: Our regular lawn service includes mowing both front and back yards, trimming, edging along driveways and sidewalks, and blowing or bagging grass clippings. Prices start at $40 per 12,000sq/ft.
Seasonal cleanups: Seasonal removal of leaves and other debris is critical for maintaining a healthy lawn. Prices start at $40/hour, including labor, equipment and waste disposal.
Bed maintenance: From pruning shrubs and cutting back perennials to hand pulling and spot spraying weeds, our customizable bed maintenance services keep your landscape looking its best. Pricing based on scope of work.
Trucking, excavating and grinding: Our fleet includes skid steers, trenchers, loaders, pick-up trucks, dump trucks, trailers, a grinder, screener and more. Pricing based on scope of work.
Irrigation: Let us install a programmable irrigation system to help your lawn and landscape reach its full potential. Already have an irrigation system? We can keep your system running smoothly with spring startups, fall winterization and general maintenance and repair. Pricing based on scope of work.
Snow removal: We manage snow and provide salting services for both commercial and residential properties. Sign up for season-long service and our crews will service your property automatically when snowfall exceeds two inches. Pricing based on scope of work.
For more information about any of the services we offer or to inquire about your unique property needs, please don't hesitate to give us a call today at 419-842-8733!